NEW ART: No Mere Maid | Auction ends tonight at 9pm! Bet you didn't see this one coming...
Hi everyone, I'm super stoked to share a new one that's been in the works for at least 7 years- not that I worked on it for 7 years straight- that would be nuts! I just started a pencil sketch way back when and set it aside and forgot about it until I got a call back in November where the caller wanted to commission me to paint a "slutty mermaid". That wasn't gonna happen. But it reminded me of that old sketch idea for a true north coast mermaid. She is strong, she is content, she thrives in a harsh and unforgiving environment. She is beautiful, but her beauty isn't flaunted to feed or lure any depraved eyes. She is who she is, and she is No Mere Maid.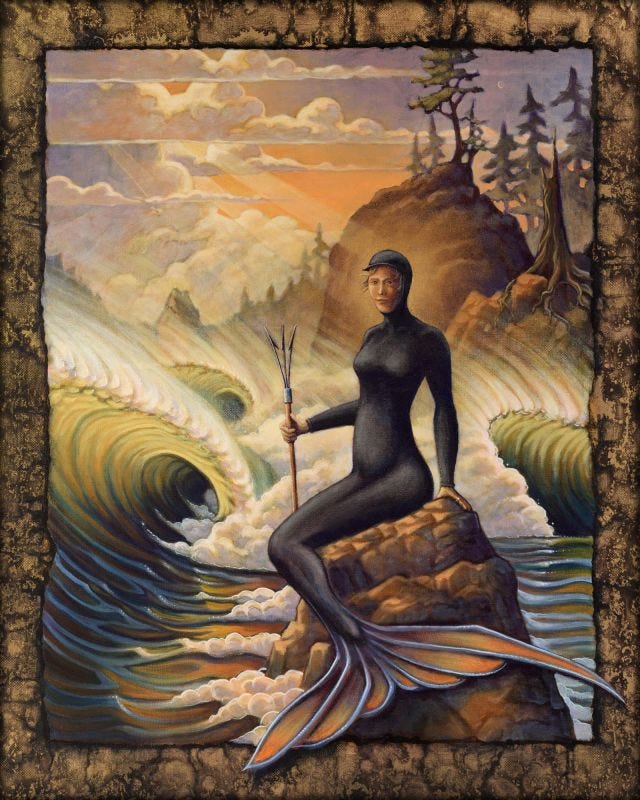 "No Mere Maid"

Acrylic on Canvas
24" x 30"
Painted live on the Trinidad Coast with live music from the Sand Fleas
(but put a fair amount of studio time on it after that initial live session)

There's a lot to unpack here and I'm not even going to try to lay it all out. The original sketch was just a whimsical idea, but as I started painting her it was like a well opened up and began overflowing with ideas. She's wisdom personified as the divine feminine in the book of Proverbs. She's the classical ideals of truth and beauty that we only see in glimpses, forever out of our mortal reach. She's the one Dylan sings about in She Belongs to Me (although from his lyrics I don't think she belonged to him, or anyone else either). She's the sea itself. She's all of those at once and more.

Even wrote a poem about her (Turn the sound up! Well, only if you want to hear my wife and I attempt a spoken word rendition of the poem from a deep dark sea cave on the Trinidad Coast, and also my daughter improvising an epic piano score to go along with the poem):
www.youtube.com/watch?v=i_5qnVbg0IE&t=20s

This isn't a typical painting for me, that's for sure. But I enjoyed painting her and I hope you're enjoying this curveball to your inbox as well!
---
This Original is Up for Auction Right Now!
Yep. This time around the auction is being held to benefit the Trinidad Coastal Land Trust (but they are generously splitting it with me 50/50 so it's great for me too). Here's all the info:

Direct Link to Online Auction:
carljohnsonco.hibid.com/lot/84554118/original--live--painting-by-matt-beard

Bidding Closes: Wednesday, March 3 @8:59pm (or shortly after, keep reading for important details)

Important Details: This is the critical piece of fine print from the auction site (I'm not hosting this one)
"This auction is a soft close auction. The auction will begin to close at 11:59 PM Eastern Time (8:59 PM Pacific Time) and an item will close every 15 seconds. If a bid is made on an item in the last minute of bidding time for that item, one minute will be added to that specific item. Watch the auction till the end!"
My suggestions: Make sure you have the winning bid at 8:55pm, and if someone else outbids you, just keep bidding and refreshing that page until you're the last one in the mix and wait until the auction closes and says its closed. As long as the internets are working well, nobody should be able to come and swoop it from you at the last minute, but you have to be vigilant and watch it like a hawk from 6pm until it is officially over.

I also understand you may be able to bid a much higher amount than the current bid and the automated system should keep you in the mix at the minimum increments until there are no more challengers or until you reach your limit. But I didn't see that written anywhere, just heard it from one of the early bidders, so take that with a grain of sea salt...

It's not my auction, this is all out of my hands.

Best of luck!
Other things to note:
Shipping Options: There is an info section on the auction site for shipping options but it only talks about local pickup which is fine for locals here, but not so helpful if you're out of the area. Don't worry. I have the painting here in my studio, and I can ship almost anywhere in the US for less than $40 (sorry Hawaii and Alaska, you guys might run a bit more). But yeah, we can sort it all out afterwards, no problem.
Framing: The painting is framed in my standard aged redwood lath edge, ready to hang and enjoy.
Value of This Painting: These paintings that are done for fundraisers are unlike any of my other work, often born of a moment's inspiration and letting the imagination fly. They are almost exclusively painted and sold at the events at which they were created. But since there's still no such thing as live events in California anymore, well, here we are doing everything online and now you have the opportunity to bid on equal footing with the folks who would have attended the actual event no matter where in the world this email finds you. That's pretty cool. Other live paintings I've done for fundraisers have brought in as much as $11,500 and the last that went like this back in October went for $4500 if I recall correctly. Now, if these had been commissioned works or gallery sales, they might have been priced less in some cases, but there is a hard-to-get scarcity factor that must be considered here. In fact this whole painting was born out of a refusal to accept a specific commission, and I'm not planning to ever paint another one like this again, so how can I stack this value against my other landscape work? The current bid as of this writing is right around the $1200 mark, and no matter how you cut it, that's still in the bargain zone, especially for a piece like this and I'll just leave it at that.
---
Prints Available:
And one more thing... if the auction is already out of your range but you're really wanting to enjoy this one for yourself or for a gift for someone you think would enjoy it...
Prints are Available Here:
mattbeardart.com/artwork/no-mere-maid/

Use code "much-appreciated" at checkout for 10% off.


---
More to Read!
Don't get me wrong, this painting is no Mona Lisa, but for a fun bonus read check this out. It was posted a few weeks after No Mere Maid was completed but it resonated with me after wrestling with many of these themes:
bbc.com/culture/article/20210211-the-detail-that-unlocks-the-mona-lisa


---
And that is all for now.
Holler with any questions and I'll try to get back right away.

Big Sur, Catalina, and Lost Coast plein air originals coming soon! (they've been sitting in my studio forever.) I'm making myself finish any touch ups and get them photographed before taking any new trips or paintings on... any day now, stay tuned!

I appreciate all of you and your ongoing support.

Cheers!

Matt